Kia Auto Repair and Service in Escondido, CA
Hours
Monday - Friday

9:00AM-8:00PM

Saturday

9:00AM-7:00PM
Experience a Phenomenal Kia Auto Service Center at North County Kia
Bring your vehicle to our Kia service department to be sure it gets the best care possible. Our Certified Kia technicians have the necessary experience to properly service any Kia model, like the Telluride, Sorento, Carnival, Sportage, and others. They are well-trained, dependable, trustworthy, and accountable for their work. Our team will always take the required steps to ensure your vehicle is ready to drive on the nearby Carlsbad roads safely.
Your Kia model will inevitably experience wear and tear over time. That is where our Kia service professionals can help. You may depend on our facility in the [GEO] area for the best outcomes, whether you require a quick oil change, tire rotations, brake repairs, or battery replacements. You can easily keep up with your Kia's maintenance program by choosing our establishment.
Following your maintenance routine might help you spot problems early when they are less expensive. You may also prevent some issues since your parts have been well-maintained. This diligence saves you money on repairs and protects you from the anxiety, safety risk, and time loss that a car breakdown may cause.
Kia Auto Services Available Near Temecula
The longevity of your car or truck depends on regular oil changes. Changing the oil involves emptying the old, used engine oil and replacing it with new, clean oil. Because it cleans the motor oil as it travels through the engine, the oil filter gets updated also. With our service, you can prevent the engine from seizing up while securing a smoother performance, less time spent in the shop for repairs, and excellent gas mileage.
With our brake maintenance, you will feel confident your brakes will engage every time you press the pedal. A Kia expert will check each component to ensure they function appropriately. Your brake pads, rotors, clips, and calipers will all get inspected to confirm everything is operating as it should.
The regular service and maintenance of your automobile battery are critical to the overall health of your vehicle. With the setup for modern vehicles, your car battery keeps your car running and protects you and your passengers on roads near you. A battery service often includes inspecting the battery, wires, and terminals and cleaning the battery surfaces. Additionally, our professionals treat the battery terminals to prevent corrosion.
We're sorry, we do not currently have any specials published. Please check back soon or contact us for more information.
Thoughtful Amenities
It's easy to save time when you schedule online.
Depend on Genuine Parts for Your Kia Vehicle
Along with the beneficial services and repairs, you can rely on us to add genuine Kia parts to your automobile. You do not need to worry about the quality of genuine parts because they are identical to the item they are replacing. They will provide an ideal match to your vehicle and work perfectly with the other components. These can increase the life of your automobile and allow it to perform in optimal conditions.
These genuine Kia parts were created and rigorously tested for top-notch correspondence with your vehicle, giving you peace of mind that they will function as anticipated. You can expect the same performance from your automobile as before.
When looking for a spare part, durability and longevity are at the top of your list. You do not want your money to get squandered after only a few months if a part fails unexpectedly. Thankfully, genuine parts are constructed to last much longer than generic parts and enable better performance in your automobile.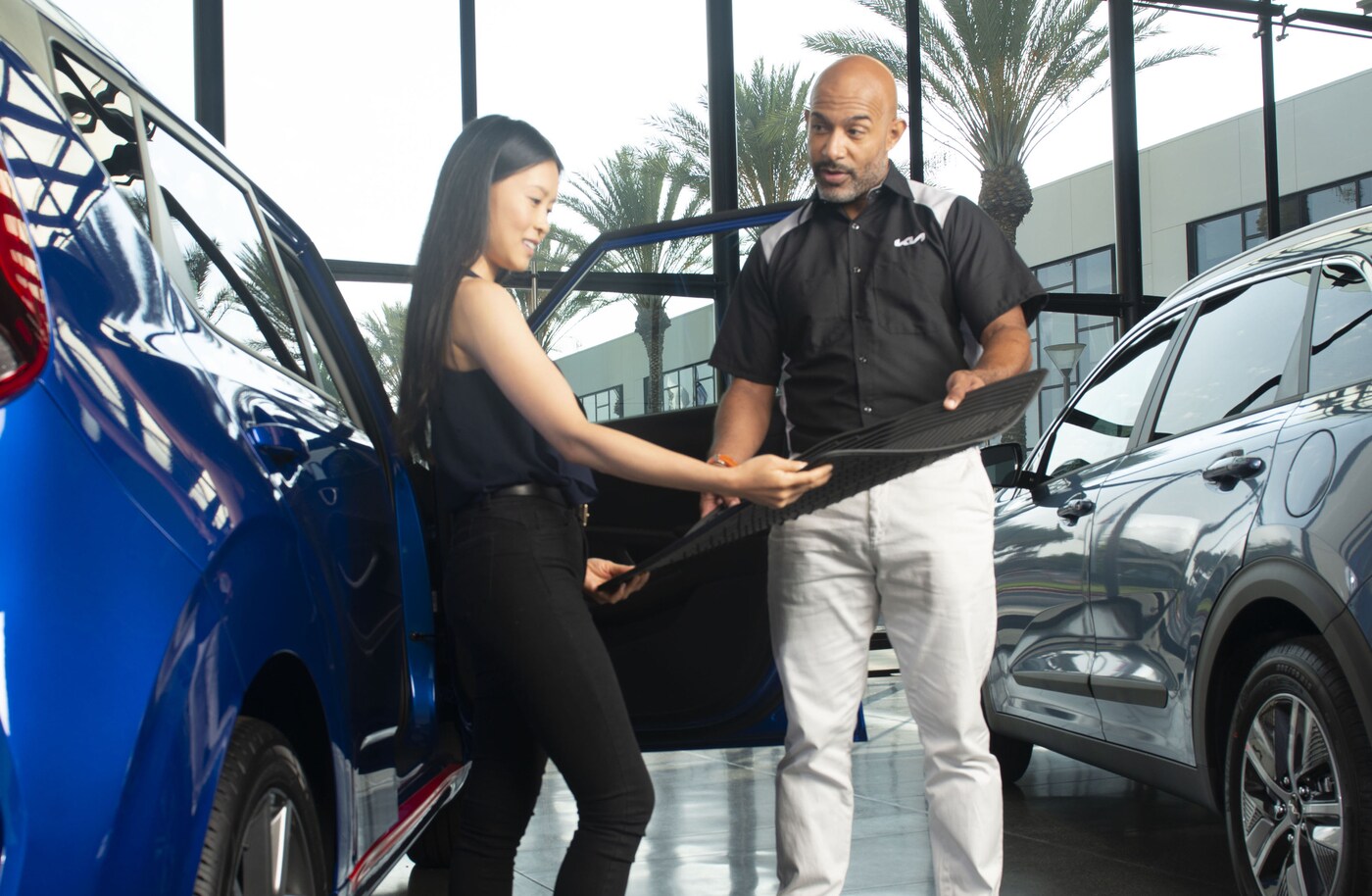 Visit Our Dealership to Test Drive
Review our Kia service specials online to enjoy lower Kia repair costs. Guests from Oceanside, CA, can also schedule Kia service at a time most convenient for you. We are available to assist you in any way we can.