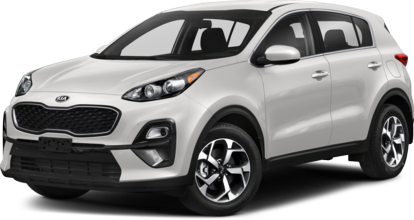 Explore the New 2020 Kia Sportage in Escondido
Ready for your next adventure when you are, the new 2020 Kia Sportage is an athletic crossover that boasts impressive versatility when you need it most. 
A small SUV with big-time performance value, the new Sportage is updated for 2020 with the latest technology and standard safety features. An engaging family-vehicle that doubles as a reliable daily driver, the 2020 Kia Sportage has plenty to offer for drivers in Carlsbad.
Style & Design
The first thing you'll notice about the new 2020 Kia Sportage is its stylish exterior persona. Highlighted by an array of aerodynamic body panels and smooth lines, the outside is easily recognizable. Featuring a dazzling collection of standout exterior amenities, including radiant LED headlights, updated exhaust tips, and a redesigned front grille, drivers will fall in love with the new 2020 Kia Sportage before ever stepping foot inside. Available with a variety of unique wheel design options, this crossover revels in its ability to be customized whether you're looking for a road tire or something more suitable for the off-road avenues in San Diego.
Inside, the Sportage basks in its uncluttered cabin design, making it easy for Temecula drivers to access everything without stretching too far. Available with heated and ventilated front seats that conform to your body and keeps you cozy on long road trips outside of the city. Ergonomically designed to enhance your driving experience behind the wheel, the interior cabin is thoughtfully curated to bring out the best of you in every drive. Also available with a panoramic sunroof, drivers can choose to let in the sun on those warm summer days when all you want is to feel the cool rush of air blowing through your hair.
Versatility
Boasting plenty of room to roam, the new 2020 Kia Sportage comes equipped with an available removable tray underneath the cargo floor for those loose items that won't stay put. Standard with 60/40 split-folding rear seats in the back of the cabin, it's never been easier to load and unload your favorite summer gear into the back seats. Offering numerous flexible storage options, the interior cabin of the Kia Sportage can be easily configured to accommodate your next adventure. Whether you're hitting the roads to go surfing or you need extra space for your groceries, this Kia makes easy work of all your tasks. Additionally, Kia's available Smart Power Liftgate assists you in your time of need when your hands are full after a long day of sunbathing.
Power & Performance
Able to adapt and maneuver the varying levels of terrain near Oceanside, CA, the 2020 Kia Sportage comes equipped with all-wheel-drive to help keep you in total control. From the icy roads in winter to the muddy back roads in summer, it is equipped to manage your performance regardless of what obstacles stand in your way. Available with two unique engine options, including a 2.0-liter turbocharged GDI that produces 240-horsepower and 260 pound-feet of torque, the Kia Sportage also features a Drive Select Mode function that helps you handle every roadway with precision. If you're looking for something powerful that reacts to the road conditions as they come at you.
Schedule a Test Drive at North County Kia
The new 2020 Kia Sportage is more than just your average SUV. It's nimble handling, increased cargo space, and invigorating performance features allow it to stand out on the roads in Escondido. For more information about financing, to view our ongoing special incentive deals, or to schedule a test drive, please call, click, or visit us in person at North County Kia today! We look forward to meeting you!